Violist's career forever linked to MLK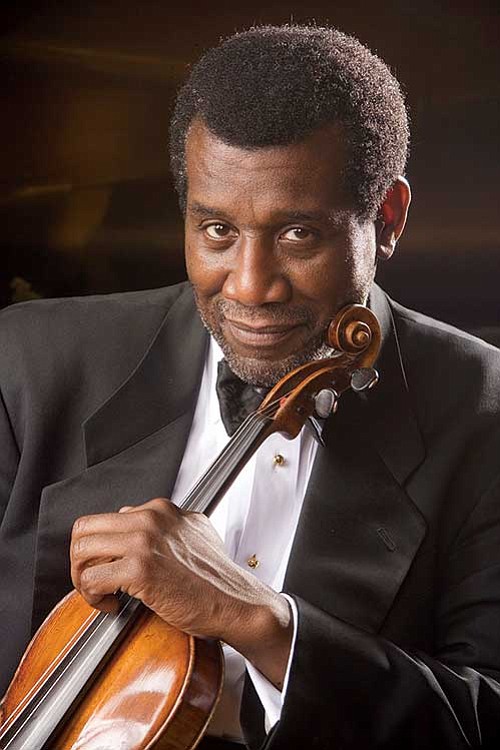 One of only a few African Americans to find success in classical music, violist Marcus Thompson has garnered critical acclaim since the start of his illustrious career. The South Bronx native earned the Juilliard School's first-ever doctorate in viola performance, and in 1968, he performed in Carnegie Hall as winner of the prestigious Young Concert Artists International Auditions. Also in 1968, Thompson made his Boston debut, on April 4, with a recital at the Isabella Stewart Gardner Museum.
That evening, Martin Luther King Jr. was assassinated, and the two pivotal events—King's death and his start on the concert stage, mingle in Thompson's memory.
On the evening of Feb. 24, at Kresge Auditorium, on the campus of the Massachusetts Institute of Technology, Thompson marked the 50th anniversary of his debut with a concert that reflected King's legacy as well as his own.

Distinguished as an educator as well as a musician, Thompson has been a faculty member at MIT for more than four decades. In 2015, Thompson received MIT's highest faculty honor, the title of Institute Professor.
Saturday evening, Thompson performed both on viola and viola d'amore, and designed a program that was a celebration of community—including the colleagues and students who shared the stage with him; and a demonstration of the power of music to bring people together.
Proceeds from the Marcus Thompson Faculty Recital, an MIT Sounding Series concert presented by the MIT Center for Art, Science & Technology and Music and Theater Arts, benefited a local nonprofit, Artists for Humanity, which employs young people in the visual arts and creative industries.
The concert's inclusionary spirit began with Thompson's choice of instruments, the viola and its more exotic sibling, the viola d'amore. Thompson brings much heralded mastery to each, coaxing a dark, rich sound that is midway between the timbre of a violin or the still deeper cello, and achieves an emotional eloquence that transcends virtuosity.
With its name and design, the viola d'amore hints at an ancestry beyond Europe to an earlier generation of string instruments such as the Byzantine lyra. A blindfolded Cupid's head crowns its tip instead of a scroll, because love is blind; and "d'amore" echoes the phrase "of Moors," evoking the Berbers who migrated from northern Africa to Europe in the eighth century, bringing their rich Muslim culture, including stringed instruments. Framing the strings of the viola d'amore are twin carved figures resembling "the flaming swords of Islam."

Thompson opened the program with a work showcasing the instrument, Antonio Vivaldi's "Second Concerto for Viola d'Amore and Strings" (1724). With lively accompaniment by an ensemble of eight violinists, two cellists, and a bassist, Thompson played sinuous solos that gave full voice to the work's plangent sweetness.
Next came "Rothko Chapel" (1971), a stirring and spare meditation composed by Morton Feldman to inaugurate the Rothko Chapel at the Menil Foundation in Houston. An octagonal contemplative space open to all, the chapel displays 14 wall-size black paintings by Mark Rothko, who did not live to see its completion.