Council to take on tough issues in 2018 hearings
Edwards calls for review of Hub housing speculation
Yawu Miller | 1/31/2018, 12:54 p.m.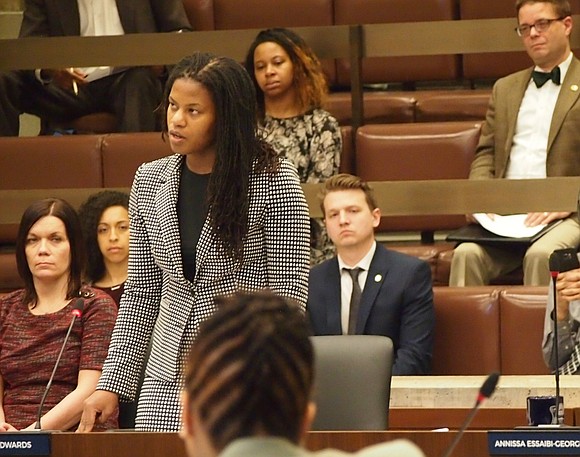 Newly-elected City Councilor Lydia Edwards last week called for a hearing to investigate ways the city can tame its speculative housing market, delivering a blistering critique of the city's free-market approach to solving its housing crisis.
"We are often told that we need to build more. Market forces and the age-old rule of supply and demand will be able to house our poor, working class and middle class," Edwards said in her first speech from the floor of the council's Iannella Chamber. "Let me be clear, I do not believe we can build our way out of this housing crisis and I am a skeptic of trickle-down housing policies."
Edwards' hearing order, along with other moves by her fellow councilors, promise to bring a remarkable range of debate on city policy in the coming months. Among the more controversial: a hearing order from At-Large Councilor Annissa Essaibi George to explore a return to an elected school committee; a hearing order from At-Large Councilor Ayanna Pressley and Essaibi George to take legal action against pharmaceutical companies for their role in the opioid crisis; and an order from Council President Andrea Campbell to review the preliminary findings of the Boston Police Department's body-worn camera study.
The flurry of hearing orders — aimed at some of the weightier issues facing the city and Mayor Martin Walsh — gives some indication that the six women on the 13-member City Council will not shy away from controversy.
"This is actually a disruptive moment in the best possible way," said Pressley after the meeting. "I'm very excited about the direction of the council."
Pressley, who has served four terms on the council, also has re-filed with Councilor Josh Zakim a hearing order to review the sexual harassment policy of the Boston City Council.
Flexing Council muscle
Under Boston's strong-mayor system of government, the councilors' power lies mainly in their ability to create new laws for the city and approve or reject the city budget. The mayor has veto power, and mayors in past years have wielded considerable power over the council. Former Mayor Thomas Menino often required councilors to support his pick for council president and approve his budget in exchange for his support in their election campaigns.
While Walsh does not have the same reputation for exerting control over the council, he has lent the support of his political machine and fundraising apparatus to some council candidates.
But his intervention backfired in Edwards' District 1, which includes parts of the North End and all of Charlestown and East Boston. There, Walsh threw his support behind Edwards' opponent Stephen Passacantilli, allowing the former city worker to use the mayor's image with the words "I'm with Stephen," on campaign literature and making robo-calls on his behalf.
Edwards' political independence was readily apparent in her reference to "trickle-down housing policies" — a not-so-subtle refutation of the Walsh administration's contention that it can fight the crisis of housing unaffordability and displacement through production of more residential units. Instead, Edwards argued, developers have built luxury units that attract higher-income buyers and speculators but do little to satisfy the needs of middle-income and working-class families.