Dudley planning focuses on jobs
Residents question developers on businesses slated to move in
Karen Morales | 1/10/2018, 10:51 a.m.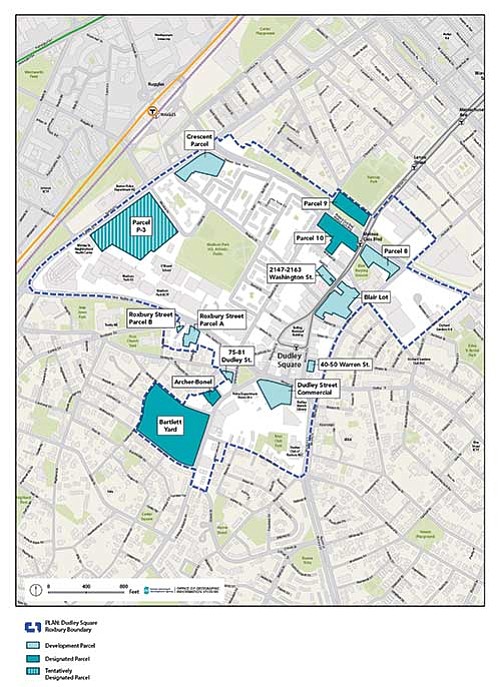 The Boston Planning and Development Agency released draft guidelines on Monday for new developments on the last remaining public parcels in the Dudley Square area.
Plans for the parcels include a new healthy food grocery store and a new Planet Fitness gym.

The parcels include Bartlett Yard, Parcels 9 and 10 at Melnea Cass Boulevard and Washington Street, and Parcel P-3.
At a Roxbury Strategic Master Plan Oversight Committee meeting Monday evening, BPDA officials and developers answered questions that committee members and Roxbury residents volleyed at them.
One of the major concerns expressed at the meeting by Roxbury residents and committee members was the kind of job prospects and wages community members would have from future commercial developments.
"We continue to not have a clear understanding of what commercial entities will be there," said oversight committee member Dorothea Jones. "Every project should be providing some benefit to the community."
Some developers such as David Price, executive director of Nuestra Comunidad Development Corporation, said they would intentionally hire from inside the community for planned businesses, including Good Food Markets.
"We did a study on grocery shopping and found that Roxbury residents spend $33 million on groceries outside of the neighborhood," said Price.
"Additionally, the state Department of Public Health found that Roxbury has one of the lowest rates of access to supermarkets," he told community members at Monday's meeting.
Price said a recent $1 million no-interest loan investment made by Boston Medical Center will significantly support the buildout of the grocery store.
Jeffrey Feldman of P-3 Partners, LLC development team said that the Tremont Crossing project itself will create at least 100 local jobs for custodial, security, and maintenance work.
Wages still unknown
Specific wages were not disclosed for each commercial project at each parcel, mainly because the specific commercial tenants were not yet confirmed. Kamran Zahedi, developer of the Melnea Hotel and Residences project on Parcel 9, is still looking for commercial tenants for a sports facility and a dry cleaner business.
Feldman said Tremont Crossing is looking into adding various commercial amenities such as a movie theater and a rock-climbing facility. He said that Planet Fitness has signed a lease on the parcel.
Russell Tanner of Madison Park Development Corporation said Parcel 10, where the new Tropical Foods supermarket is located, is considering new restaurants, a beauty salon and cell phone franchise space. He said that one of the three available retail spaces is under agreement with Clubhouse Network, a youth STEM education program.
"The jobs available depend on the businesses that go into it," said Tanner.
Call for transparency
Residents at the meeting were concerned that there wasn't enough transparency and information around the type of commercial development and job creation that would occur for the new Dudley Square plans.
Chuck Turner, a Roxbury resident and longtime community activist, suggested to the oversight committee that they should establish community standards for any new development in the neighborhood for wages, healthy workplaces and Community Preservation Fund allocation.
"The development teams should be required to report to the oversight committee what businesses will take lease and what they will pay their workers," he said. "And the committee should not allow them to give out the lease, if those standards are not met."