What does it take to re-energize Dudley Sq?
Business changes spark questions on the district's needs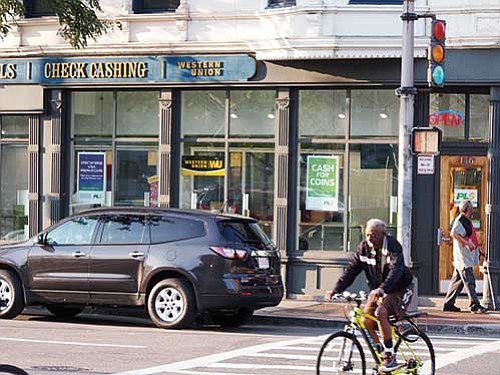 "Right now, until we get more market rate housing, we don't have the incomes to support a lot of the restaurants and cafés and things that people want," Stanley said. "Eighty percent of Roxbury is low-income housing. We still can have low-income housing, but they need to spread it throughout the city so as not to undermine the economy of a neighborhood."
Another strategy involves encouraging patronage from non-residents. During the week, large employers in the area — such as the school department, court house and welfare office — bring in workers with a greater mix of incomes. Traditionally, the challenge has been to draw them out of the office to shop during lunch hours or in the evening. The entry of Haley House and Walgreens started to achieve this, along with the openings of Dudley Café and other local restaurants, Stanley said. To further this effort, Stanley now holds monthly food tours promoting the area's offerings. On her latest tour, 20 people attended, with roughly half stating they had never patronized a store in Dudley.
Meanwhile, crime also has ticked up recently, with an increase in the number of people coming into the district to sell or use drugs. That scares off customers and, Stanley said, resolving it calls for more social services and drug treatment beds.
New approaches
Business success lies in adapting to current trends, not recreating the '60s, Stanley said. Dudley's main customers tend to be employees or residents, often those who are elderly or above 40 years old. Meanwhile, despite nearby schools, members of the younger generation rarely patronize shops and tend to do their shopping online.
"If we're developing for the future, we can't be developing things like we did for the '60s," Stanley said. "People talk about 'back in the day' in Dudley, but stores and things are not going to be like back in the day."
Business Mix
Currently, Dudley is well supplied with barber shops, beauty shops, phone stores and computer repair places, but capturing a broader audience means providing unique cultural and art offerings and "destination" establishments such as restaurants, Stanley said.

One example is the Black Market. Singleton said in just a few weeks it has generated significant sales.
Stanley also pointed to a business sector that has been showing particular promise: culturally- or ethnically-tailored stores. This trend is seen in the 19 Somali businesses in Dudley that offer items ranging from fashion to meats.