Re-writing Boston's history of slavery
Efforts underway to change historic names
Yawu Miller | 9/13/2017, 10:40 a.m.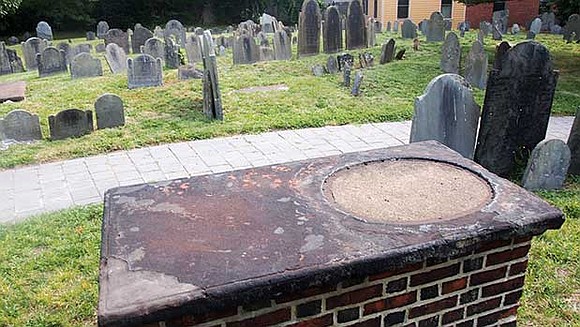 "There's nothing like being dead young," Rushing notes. "They were commemorating Warren before the war was over."
The adoration of Warren extends into the Roxbury community, where activists including Rushing have been lobbying to repatriate a bronze statue of the fallen general to Roxbury proper from its present perch on the grounds of the West Roxbury private boys school, Roxbury Latin.
Slavery in Massachusetts
Then there's the issue of other prominent colonial-era families who may have owned slaves before slavery was abolished in Massachusetts in 1783. Their names — Seaver, Shirley, Eustice, Lambert, Weld, Williams — adorn streets and their bones lie a-mouldering in the old Roxbury burial ground. Add in slave-breeding Gen. George Washington, who has streets named in his honor in Roxbury, Dorchester and Brighton.
Kambon says he wouldn't have second thoughts about erasing those names.
"Our community has monuments to people who oppressed us," he says. "You wouldn't go to the North End and find a statue of Mussolini or to Newton and find a statue of Hitler."
Kambon has scored two notable wins in recent decades. In the 1980s, he was part of a coalition that renamed Washington Park, in honor of the iconographic black rights advocate whose sister lived on adjacent Dale Street. In the 1990s, he and other activists persuaded the city to change New Dudley Street to Malcolm X Boulevard.
Rushing says the renaming of New Dudley Street was not a historical erasure, given that the throughway was constructed in the 1970s and had no real history to it. And Malcolm X's ties to Boston are well-established.
Commemorating prominent black Roxbury residents, Rushing says, is a worthy project.
"The question is, are there other black people in Roxbury who should have things named after them?" he says. "I think there are. But there should be a committee that makes those decisions."
But commemorating an ethnic group or a region where forms of slavery are still being practiced?
"Even if I wanted the name changed, Nubians wouldn't be high on my list," he says.