Re-writing Boston's history of slavery
Efforts underway to change historic names
Yawu Miller | 9/13/2017, 10:40 a.m.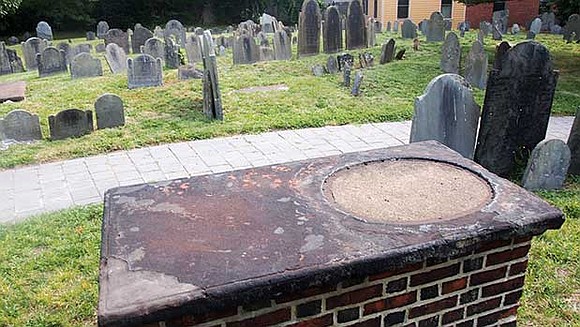 Dorchester activist Kevin Peterson wants Boston to remove Peter Faneuil's name from the iconic building he built for the city in 1742. Roxbury activist Sadiki Kambon is calling for the city to strike the name "Dudley" from Roxbury's commercial center and replace it with the name "Nubian Square."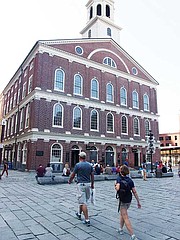 These renaming efforts come as municipal leaders in cities across the South are bringing down statues of Confederate generals who fought to uphold slavery in the Civil War. Peterson and Kambon are seeking their respective name changes for similar reasons: Peter Faneuil was a slave trader and Dudley family members are believed to have owned slaves.
"The name Faneuil Hall is an odious symbol that reflects historical lies," Peterson says. "The lie is that Faneuil Hall is a cradle of liberty. It is, in fact, a place that has a substantial link to the enslavement of other people."
The National Park Service, whose rangers give guided tours of the building, makes no secret of the fact that Peter Faneuil, a wealthy colonial merchant, derived much of his wealth from the trans-Atlantic slave trade — and built Faneuil Hall with the proceeds.
"It's not an issue we shy away from," said Sean Hennessey, director of the Park Service's Boston public affairs office.
In addition to noting Faneuil's ties to the slave trade on its website and incorporating the information into its tours, the Park Service participates in the Middle Passage Port Marker Project, a national effort to erect memorials in U.S. ports including Boston, where slaves were auctioned.
While the NPS includes Faneuil Hall in its Boston National Historical Park, throughout the 275 years since its construction the city of Boston has owned it. Boston Mayor Martin Walsh has expressed reluctance to rename the building. Peterson says he would like to see it called Crispus Attucks Freedom Hall, in honor of the ex-slave who died in the Boston Massacre.
Built history
State Representative Byron Rushing, a past president of the Roxbury Historical Society, says he favors the Park Service's approach to highlighting Boston's ties to slavery.
"My feeling is that historic buildings are different from statues," he says. "They are the history. Most statues are propaganda. But taking the name off a building is erasing history."
Kambon seems to have little regard for the Roxbury history of the Dudley Family, which originated with Puritan Massachusetts Bay Colony Governor Thomas Dudley.
"We're a Nubian people," he says, adding that the name is also a tribute to the longtime Dudley Square business, A Nubian Notion, which closed last year.
Rushing says Kambon's choice of the name Nubian undercuts his stance against the Dudley family's supposed ties to slavery.
"Because Nubians never owned slaves?" he jokes.
Rushing says he has no problems with streets, squares and New England towns named after the whites who settled here. In addition to the town of Dudley, Massachusetts, Roxbury's Dudley Street bears the family name. One of Roxbury's most prominent sons, Gen. Joseph Warren, who died in the battle of Bunker Hill, had no fewer than five streets in present day Boston and towns in states including New York, Vermont and Connecticut named in his honor. And he owned three slaves.