Growing role for computers in Massachusetts school systems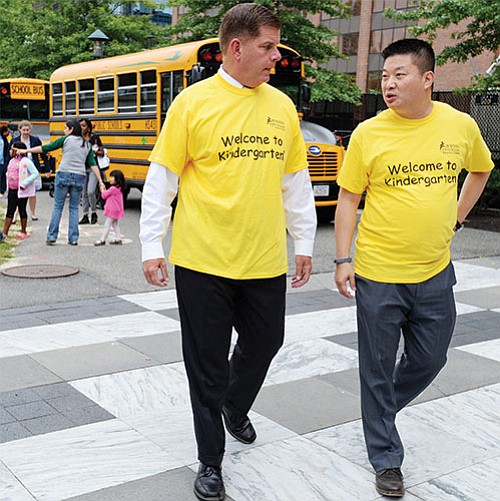 When Boston students return to school this Thursday, most will sit in a circle or rows, in a room with a teacher and a blackboard. But across the country, a growing number of students are eschewing classrooms for computer screens as part of the growing field of personalized learning.
The move toward virtual or online schools is relatively small in Massachusetts, where two online schools — TEC Connections Academy Commonwealth Virtual School and Massachusetts Virtual Academy at Greenfield Commonwealth Virtual School — last year enrolled 1,119 and 667 students, respectively.
Personalized learning is somewhat of an umbrella term that encompasses virtual schools as well as brick-and-mortar schools. The basic idea is that students are able to learn at their own pace, whether through individualized instruction from a teacher, through a software program or both. While the number of students enrolled in virtual schools in Massachusetts is small relative to other states, an increasing number of students in Boston and other districts are participating in hybrid personalized learning systems — working with teachers and on computers.
More than 100 Boston Public Schools teachers are working with Learn Launch, a Fort Point Channel-based firm that works with educational entrepreneurs to develop personalized learning software through an accelerator program. The program allows teachers to experiment with software as part of a personalized learning program, according to Eileen Rudden, a co-founder and board member of the Learn Launch Institute.
"If a teacher in early grades wants a student's reading scores to improve, we much recommend Lexia," she said.
The Learn Launch Institute would then train teachers in Lexia, which is a proprietary technology-based reading program.
In a typical elementary school classroom, a teacher may have three or four workstations where students would rotate in and out throughout the day.
"Some may work on Lexia," Rudden said. "Some might be working in a small group with a teacher."
Students typically work on computers for less than 50 minutes per 250 minutes of weekly instruction time on a subject.
"At the end of the project, two-thirds of MassNET teachers indicated that personalizing learning for their students had substantially and positively changed their instruction, because their ed-tech tools allowed them to see and utilize student data on a more frequent basis," reads a blog entry about the program on the Learn Launch Institute website.
The BPS system's partnership with Learn Launch is part of the Massachusetts Department of Elementary and Secondary Education's Massachusetts Personal Learning EdTech (MAPLE) Consortium. (BPS officials did not respond to multiple requests for information on the city's participation in the program.)
Currently, 31 school districts in Massachusetts are enrolled in the MAPLE Consortium, according to Kenneth Klau, who heads DESE's Office of Digital Learning.
Despite the prominence of the word in the consortium's name, Klau stresses that technology is just one component of personalized learning.
"Technology is not what comes first," he said. "A district has to lay out its goals for personalized learning. At the end of the process [the question is asked], How do they achieve their goals? The reason why 'ed tech' is in the MAPLE acronym is that to do this, technology is a necessary component. Necessary, but not in itself sufficient."