'The Owl Answers'
Harvard student production explores identity, race, gender
Celina Colby | 10/12/2017, 6 a.m.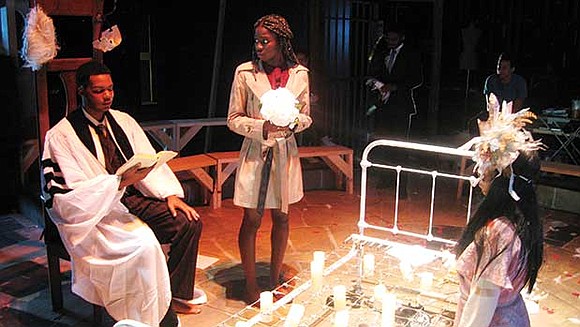 From October 13–21, students of Harvard University's newly-formed Theater, Dance and Media concentration will perform "The Owl Answers," an impactful, poetic play by powerhouse African American writer Adrienne Kennedy. The one-act experimental play features a central figure, Clara, who's struggling to deal with her dual heritage as the daughter of a white father and a black mother.
Director David R. Gammons has a long history with the playwright. He studied under Kennedy while at Harvard himself and has remained engaged with her in the production process for this play. "She's a one-of-a-kind playwright," Gammons says. "You really can't stage one of her plays as a traditional narrative. They're like dreams. They're like nightmares."
Personal plays
Kennedy began writing "The Owl Answers" in 1960 while on a trip with her husband and child to Europe and Africa. They shot some Super 8 film footage of their journey. She sent Gammons the footage when he began working on the show. "That resource was so fascinating, to see how her African heritage informed 'The Owl Answers,'" Gammons says. The playwright's grandson, who lives with her, also has been present for rehearsals. Kennedy's plays are deeply personal, Gammons says, and these numerous resources help him to keep that component of the show alive.
Enosa Ogbeide, a Harvard undergraduate student who plays Clara, feels many connections to her character. As the daughter of two Nigerian parents, she too has experienced pushback while finding and reconciling with her identity. "People have often tried to label me as one thing or another," she says. "That experience has really informed my performance." Ogbeide hopes that audiences come away from the show with a broader understanding of how harmful assumptions and stereotypes can be in an already harsh world.
Though the play was written more than 50 years ago, the issues of race, gender and identity continue to resonate today. In fact, Ogbeide says this continued relevance was one of the things that drew her to the script. Gammons says the show isn't political in a literal sense, but his directorial choices have served to bring those themes home, including staging the production in the round. "The way we staged the show is incredibly intimate. It's really in your face," he says. "I hope that intensity and intimacy causes people to reflect on one's individual consciousness and identity."