Quiet push for unified enrollment
Many taken by surprise as Walsh co-sponsors state bill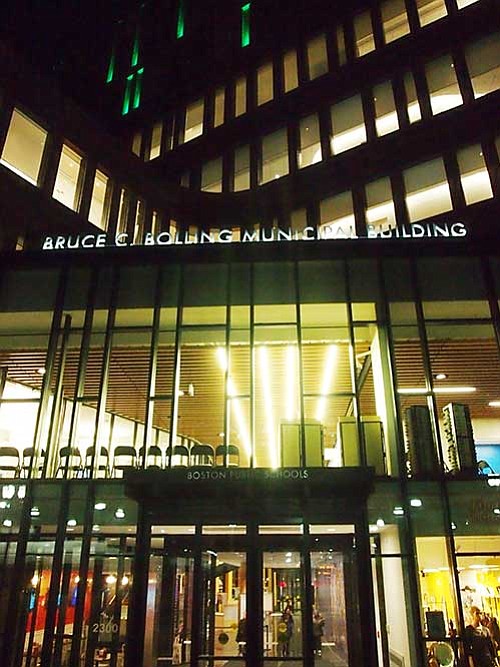 QUEST's report also raises questions on whether families would be guaranteed to have high-performing district school options on their list. Given that school lists draw from a one-mile radius around the students' home, QUEST also says answers are needed as to whether a unified enrollment system will mean that assignment lists for students in charter-heavy neighborhoods like Hyde Park could include only or almost all charter options.
Other questions raised by QUEST include whether charter schools will be required to increase programming for students with higher needs and English Language Learners so that they take in an equal share of these more costly-to-educate demographics. Otherwise, it could put BPS at a disadvantage in school rankings if the new enrollment system causes charters to increasingly siphon off less-expensive students who traditionally perform better on standardized tests.
In 2015, supporters presented unified enrollment as a way to simplify the then-complicated charter school application process. At the time, families had to fill out a different application for each charter school. However, this problem has disappeared: at present, more than a dozen participating charters have switched to a single online common application form.
In a statement provided to the Banner in Boston Education Chief Rahn Dorsey's name said that "Families need a clear and simple path to school enrollment and the goal of unified enrollment is to create an equitable system for all Boston's families."
The statement said that BPS currently is focused on evaluating its existing assignment system. Parents have long questioned the push to create a new assignment system, unified enrollment, without information on how well the current system is working.
The Dorsey statement also said that the work of addressing concerns over potential public policy on unified enrollment is being handled by a private entity called the Boston Compact. The Boston Compact comprises representatives of charter schools, religious schools and BPS schools and has the stated goal of promoting collaboration across these school sectors.
"After seven citywide meetings, 20 community discussions and many conversations with parents and educators, the Boston Compact is looking to address some of the questions that were raised, such as special education needs and students arriving mid-year," said the statement attributed to Dorsey, who is a Boston Compact member.
In response to Banner questions on why unified enrollment was necessary, given the availability of a common charter application, a Boston Compact spokesperson issued a statement attributed to collaboration officer Rachel Weinstein that said that unified enrollment is meant to simplify enrollment and application processes, create consistent enrollment policies and procedures across district and charter schools and provide Boston students with "fairer access to high quality schools."
Limited information
Unified enrollment was proposed in 2015 by the Boston Compact. However, QUEST states that some attendees at the Compact's meetings on unified enrollment found the information limited.
"Details of the proposal's implementation [at these meetings] were minimal," states the QUEST report. "What information was provided changed from meeting to meeting, and it seemed to many parents that the goal was to promote the plan rather than to elicit genuine feedback. Even now, two years after the launch of the plan, details of how it would work, who would sign on, or what the potential benefits and costs would be, remain vague."