Jackson's mayoral bid raised issues of equity
Challenge failed to beat power of incumbency
Yawu Miller | 11/8/2017, 10:45 a.m.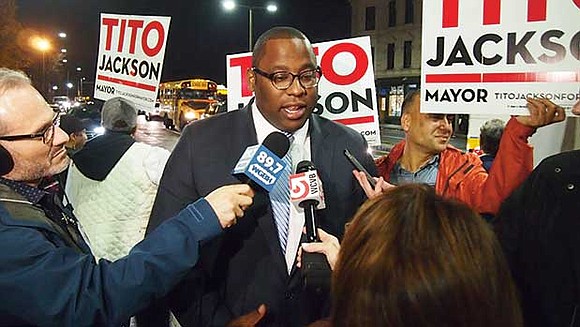 Mayor Martin Walsh's victory in the Nov. 7 election came as no surprise to most observers. With slim odds of beating an incumbent mayor and with Walsh enjoying a $4 million war chest, Jackson, who never had more than $101,000 on hand, was outgunned.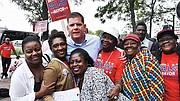 But through his challenge to the sitting mayor, Jackson has pushed tough conversations on race and economic inequality in a city of 673,000 where most residents no longer can afford the rising cost of housing. The conversation, held in campaign forums, the two debates between Jackson and Walsh and in the city's news media, forced Bostonians to take a hard look at their city.
Jackson is the first African American to make it past a mayoral preliminary since the 1983 contest between former state Representatives Ray Flynn and Mel King. In that race, the city's black community lined up behind King, but was ultimately defeated by a much larger white electorate.
While in the 1983 race battle lines were formed between the city's racially divided neighborhoods, this time around Walsh made the city's black community itself an electoral battleground, with the mayor's campaign appealing for votes in the District 7 wards and precincts Jackson represents in City Hall. On the first day nomination papers became available in May, both Walsh and Jackson campaigned in Dudley Square — the heart of the community — standing no more than 20 yards from each other as they collected signatures.
As the race progressed, Walsh deployed teams of volunteers and paid canvassers to collect signatures, knock on doors, identify supporters and turn them out to the polls. His campaign wasn't shy about drawing from the vast pool of more than 16,000 city workers. In March, then-Chief of Staff Dan Koh sent an email to city employees inviting them to march in the Pride Parade with Walsh. Many who accepted the invitation marched with campaign signs, according to DigBoston.
Jackson's substantially smaller base of volunteers drew from his District 7 constituents and a group of activist Boston Public School parents angered by a series of budget cuts to schools during the four years of the Walsh administration. His preliminary election wins in Roxbury's wards 12 and Jamaica Plain's wards 11 and 19 reflected these bases of support.
Demographic shifts
A major difference between Boston in 2017 and at the time of the 1983 mayoral campaign is that Boston has become a majority-people-of-color city, with whites making up only 47 percent of the population. In 1983, whites dominated, with people of color making up little more than a quarter of the city's population. The Latino population has more than doubled, while high rents in formerly working-class strongholds that turned out in force for Flynn in 1983 have forced out many of the Italian-American and Irish-American voters, pushing down vote totals in those neighborhoods.
Politics, too, have changed substantially since 1983. That change began with Flynn, who appointed blacks and Latinos to head large city agencies — significant positions with overseeing staff and a budget. Laval Wilson was the city's first black school superintendent. Doris Bunte was the first black woman to head the Boston Housing Authority. Felix D. Arroyo headed the city's Personnel Department.