District 7 candidates debate at Islamic Society Ctr.
District 7 candidates debate at Islamic Society Cultural Center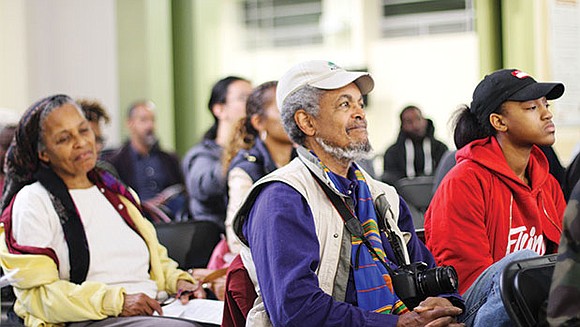 In a debate last week, both candidates in the race for the District 7 City Council seat agreed to push the city to require deeper affordability on new housing developments, to update the Roxbury Strategic Master Plan and make the body that oversees it more democratic, and to push for greater transparency for development projects on public land.
Housing issues dominated the sole debate scheduled for the District 7 race. Held last Friday at the Islamic Society of Boston Cultural Center, the event was co-sponsored by Reclaim Roxbury, Alternatives for Community and Environment, and Neighbors for Neighbors.
The questions for the candidates were preceded by statements from Roxbury residents.
"I worry that with the developments coming into Roxbury and the rising rents, I'll be priced out," said Amanda Govan, before the two candidates were asked whether they would sign onto a letter calling on the Boston Planning and Development Agency to require income guidelines for affordable units built in Roxbury to be capped at 30 percent of the HUD-designated area median income, which would mean $31,000 for a family of four. Currently, units designated as affordable in Roxbury can be sold to people making as much as 120 percent of the AMI, which comes to $124,100 for a family of four.
"I share some of the same apprehensions and anxieties," said candidate Rufus Faulk, questioning whether his 3-year-old daughter would be able to afford to stay in Roxbury. "Signing onto that letter would be a priority from day one."
Candidate Kim Janey noted that two-thirds of District 7 residents earn $55,000 or less per year.
"That is the reason people can't afford rents," she said, noting that average rents in Boston are $2,000 a month. Janey added, however, that she supports more moderately-affordable housing as well.
Janey said she would support a more democratic Roxbury Strategic Master Plan Oversight Committee, advocating for the group to have veto power over development projects.
"I have seen the frustration of community members who come out to the meetings and are not heard," she said.
Faulk, too, said he would support strengthening the oversight committee. He also noted his opposition to the 300-unit apartment complex proposed for 45 Townsend Street in Roxbury, though that project is by a private developer and not in the RSMPOC's purview.
Faulk seized the opportunity to get in a dig at Janey, who has received some campaign contributions from local black developers, including John B. Cruz and Lisa Guscott.
"I am not taking money from developers, because I believe you have to be independent," he said.
The focus on housing reflected the organizations sponsoring the debate and the prevailing concern in Boston's black community that rents and housing costs are too high and that many in the community can no longer afford to live in the city.
Audience questions
Audience questions covered a wider range of topics, including education, employment and campaign funding sources.
When asked what they would do to provide adequate resources to public schools in District 7, Janey cited her work as a policy director for Massachusetts Advocates for Children and said she would advocate for more students being in rigorous advanced work classes that help propel them toward attending exam schools, and would work to bring more black and Latino teachers into the system.