Triple threat: Asparagus, Hollandaise, seafood is pure decadence
Ari LeVaux, More Content Now | 5/19/2017, 6 a.m.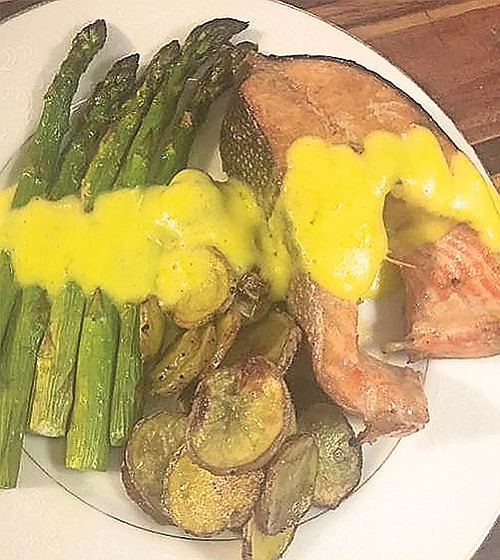 Alternatively, poach your asparagus separately in butter, or 50/50 with extra virgin, for a rich result. Serve asparagus destined for Hollandaise at room temperature or warmer.
In addition to the clarified butter you will need:
1 tablespoon lemon or lime juice or light vinegar
1 egg yolk
¼ teaspoon salt
2 tablespoons water
Combine all of these except the yolk in the double boiler, with the water on the lightest of simmers. Then kill the heat, leaving the bowl in place, and whisk in the yolk. Keep whisking until it's a froth of bubbles. Beating continuously, slowly pour in the liquid clarified butter, a few drops at a time at first, whisking them in until completely incorporated. Then a few more drops. When half of the butter has been added you can add it a little faster. You should, at this point, have Hollandaise.
While it's often advantageous to cook the asparagus with the seafood, sometimes the asparagus is cooked separately. Perhaps you want to wrap the spears in salmon lox, drench in Hollandaise and sprinkle with minced capers.
Blanching is fine, and then shocking in ice water to keep the bright green color and serving at room temperature.
Ari LeVaux writes Flash in the Pan, a syndicated weekly food column. Ari can be reached at flash@flashinthepan.net.