Savvor serves up Southern and island comfort in Boston's Leather District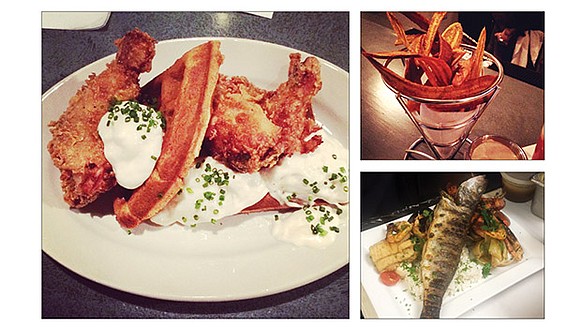 When Eddy Firmin was ready to start his own restaurant after spending years in the corporate world and as a restaurant co-owner, he created the kind of place he would want to go to.
On the web
Savvor restaurant and lounge is at 180 Lincoln St., Boston. For more information and to make reservations, visit: www.savvorbostonlounge.com.
"This is me," he says, sitting recently in the dining room of Savvor, the restaurant and lounge he opened in downtown Boston in 2014. "It's stuff I like to eat — good food, nothing crazy. Our recipes come from all over — from my mother, from family members, borrowed from a lot of places."
The menu at Savvor combines two types of food Firmin favors: the island flavors of the Caribbean and the comfort food of the American South. Customers craving Caribbean might choose the fried whole fish with escovitch salad, coconut curry stew or oxtail; those looking for southern soul will find it in dishes like chicken and waffles, gumbo, crawfish hushpuppies and mac and cheese.
A dream grows
Firmin's family came to the U.S. from Haiti when he was 10, and he grew up in Dorchester. As the oldest of four siblings and as witness to his parents holding multiple jobs to support the family, he learned about hard work and taking responsibility, he says.
Though soccer was the sport he knew best, he set out to master basketball after learning that it could lead to a college scholarship. His method paid off. He won a scholarship to UMass-Amherst. Armed with a degree in economics, he entered the world of banking and finance, working for State Street Bank and then Arthur Andersen consulting.
All the while, the entrepreneurial bug kept him thinking about having his own business one day. His first taste of this was as co-owner and managing partner of the Blue Wave restaurant and lounge in Boston's Fort Point Channel neighborhood. When Blue Wave, which specialized in casual Italian-American and pub fare, closed its doors in 2011, he decided it was time to create an establishment that would reflect his own tastes.
His vision turned into Savvor, a welcoming "one-stop shop" for many types of people, he says, describing it as a "restaurant-slash-lounge with great food, a great bar, a great drink list and a lounge with cool music."
It took nearly two years to open the new restaurant — between choosing a space, putting a business plan together, finding financing and going through the licensing process. The fact that he'd been in the business consulting industry and had a decade of restaurant co-ownership experience gave Firmin some leverage. But even so, eight banks said No, he recalls, before he finally secured a business loan. On the positive side, the Leather District location he found had been a nightclub previously and he was able to buy the existing liquor license.
Finally, everything came together. The lease was signed in fall of 2013 and Savvor opened its doors in February 2014 downtown at 180 Lincoln Street, a short walk from South Station.