Trainer's lifelong love for exercise translates into business success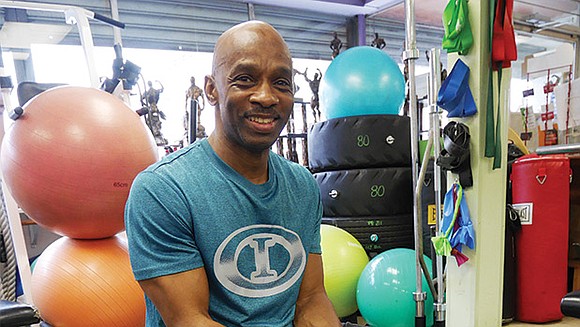 Inside Out Fitness Concepts founder Joe Sumrell traces his interest in physical fitness way back, probably to age 6 when his mother started him in judo classes. Throughout his school years, he played just about every sport available. Later on, he took up competitive bodybuilding and earned the shelves full of trophies that line IOFC's walls and storefront on Dudley Street in Roxbury. And at 58, Sumrell still competes in track and field, where he is ranked nationally and internationally in multiple events.
At a glance
What: Inside Out Fitness Concepts
Where: 513 Dudley Street, Boston
Phone: 617-983-5700
For more information, visit: https://iofcboston.com
A penchant for business emerged in childhood as well. "I've been an entrepreneur all my life," he says. Youthful enterprises included having his own paper route and using found materials such as discarded plastic-coated wire to craft bracelets and necklaces, which he sold to schoolmates.
Before opening IOFC in 1995, Sumrell spent time as a trainer in other gyms, but soon realized these settings kept him from tailoring each client's experience fully.
"I wanted to be a professional," he says, "and to be a professional you have to have control of your environment, even with something as simple as the music you play. Every trainee is different."
Naming his business "Inside Out" reflected his desire to avoid society's preoccupation with external appearance, he explains.
"In other gyms I was in, it felt plastic. In our culture nowadays, everything is based on how you look and how you're perceived," he says, perched on a stability ball in his Roxbury gym "Here, we try to kick through that barrier and help people focus more internally on who they are in terms of character and integrity."
A long-term process
IOFC's first location was in a small "hollow shell" on Thayer Street on the industrial fringes of the South End. The first two pieces of equipment were donated by a friend. The current Dudley Street space that IOFC has occupied since 2001 has a more traditional amount of "furniture," as he calls it — but sometimes he feels it's barely necessary.
"To me, you're the machine," he says. "This stuff around us is cool, but you're the machine. The way these machines work are based off of human mechanics anyway."
He now has three employees, including his son Jordan, 27, a certified strength and conditioning specialist with a degree in kinesioloogy from UMass Amherst. IOFC is not an open drop-in fitness center. The model is that everyone comes in by appointment and works with a trainer. Business has been steady, and seems to be maintained through a social media presence, word of mouth and the fact that once people start a program there, they stick around for an average of three years.
"People come here and they don't leave," Sumrell says. "This isn't a quick fix – it's a lifestyle. It's a different road, and it takes time. This is a teaching environment."
IOFC has maintained a roster of about 60 trainees for much of the past 20 years, he says. They include high school and college athletes, professional athletes, and others from all sorts of walks of life: police officers, firefighters, school teachers, MBTA workers.