Mayor Walsh launches Small Business Center in Mattapan
Announces citywide "Mayor on Main" small business tour
6/21/2017, 12:27 p.m.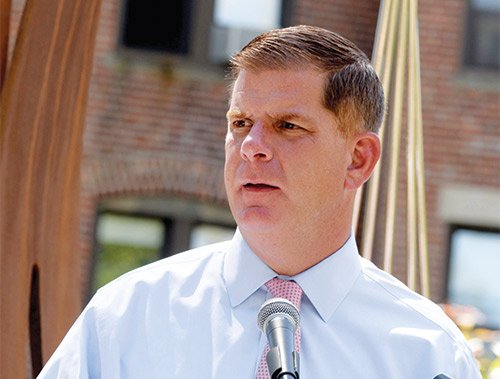 Mayor Walsh's five year small business plan aims to make the small business economy thrive, to enhance neighborhood vibrancy and to foster economic and social inclusion and equity. To accomplish these goals, the Plan proposes policies and programs to foster a high-quality, efficient support system for all small businesses; to develop tools, programs, and policies to address specific gaps in key small business segments that are vital to the city's economic growth; and to enhance opportunities for entrepreneurs of color, immigrants and women to launch and grow small businesses across the city.
As part of Boston's commitment to fostering and empowering small businesses, Mayor Walsh today signed a Memorandum of Understanding (MOU) with more than 12 business services organizations to provide high-impact trainings to neighborhoods with dense pockets of small businesses. These partners specialize in business operations, legal services, access to capital and strategic planning. Organizations that have signed the MOU include:
• Center for Women & Enterprise
• Service Corps of Retired Executives (SCORE)
• Mattapan Square Main Streets
• Mayor's Office of Financial Empowerment
• Action for Boston Community Development (ABCD)
• Northeastern University School of Law Community Business Clinic
• U.S. Small Business Administration
• Boston Public Library, Mattapan Branch
• Mass Small Business Development Center
• Mattapan Community Health Center
• MA Office of Business Development
• Local Initiatives Support Corporation (LISC)
• Boston Main Streets Foundation
About the Office of Economic Development
The Mayor's Office of Economic Development aims to promote a healthy environment for businesses of all types and sizes in the City of Boston. The Office of Small Business Development is Boston's front door for small businesses, providing navigation help for permitting and licensing, technical assistance and certification for local, women, minority and veteran owned businesses. For additional information, visit boston.gov.