Mass Innovation Nights event highlights black tech founders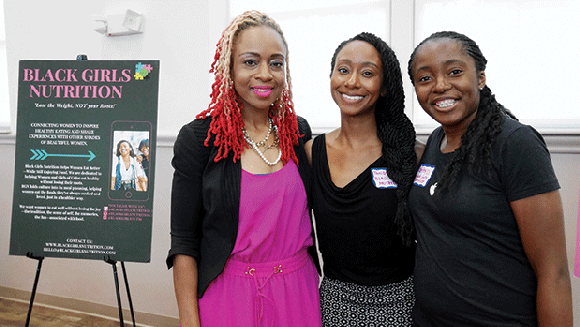 Katia Powell, a self-described "nutrition geek" with a background in biology and health policy, saw a problem in existing nutrition and dieting programs that failed to address cultural issues for women of color. So she founded Black Girls Nutrition, a digital health company that guides and connects those who want to improve their diet without sacrificing culture and food traditions. "Lose the weight, not your roots" is the company's tagline.
Kristen Ransom, CEO and founder of IncluDe, formed her software development company with a mission to use her expertise in human factors engineering to provide minority- and women-owned businesses with digital design and usability analysis services. Formed in 2015, the company's client list includes Social Good Marketing, Darryl's Corner Bar & Kitchen and OneUnited Bank.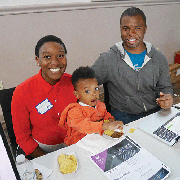 Both Black Girls Nutrition and IncluDe were among the 14 local black-owned technology and innovation companies showcasing new products and services at last week's Mass Innovation Nights product launch and networking event in Grove Hall.
Since 2009, Mass Innovation Nights events around Greater Boston and Eastern Massachusetts have enabled some 1,000 companies to showcase new products, with the in-person exposure amplified exponentially through social media.
"It's not just an event — it's actually a month-long marketing program that we do for the companies," said MIN Founder Bobbie Carlton, who also is founder of Carlton PR and Marketing. Extending the impact through social media is a key component, she said, noting that social media posts before, during and after the events, compounded, reach more than a million people each month.
The June 14 event, sponsored by Greater Grove Hall Main Streets and held at the Thelma D. Burns Building on Warren Street, was MIN's 99th — and its first to focus specifically on African American and African tech company founders.
Enthusiasm ran high as nearly 250 attendees — community members, entrepreneurs and business experts — crisscrossed the room to browse and share business information and to sample food from small businesses that operate out of the Dorchester food incubator CommonWealth Kitchen.
The nonstop buzz of greetings and networking continued even through the speaking program, which included pitches by selected businesses and self-introductions by featured business experts — all of them people of color — as well as brief remarks from sponsors and state and city officials.
Mayor Marty Walsh noted that the technology sector's income and wealth potential is key to addressing income inequality in Boston.
"Bringing technology and entrepreneurship together helps us foster economic inclusion and equality and helps bridge the wage and ethnicity gaps," Walsh said. "To be and continue to be an inclusive, global city, we have to make sure innovation and technology is not just happening in one part of our city, but in all parts of our city."
Greater Grove Hall Main Streets Executive Director Edward Gaskin spoke of meeting high school students who showed interest and accomplishment in computer game creation, but had not thought of channeling that into forming their own companies. They had the technology skillset, he said, but not the entrepreneurship mindset.