Marketing master goes with the flow
Zamawa Arenas branches off on her own with Flowetik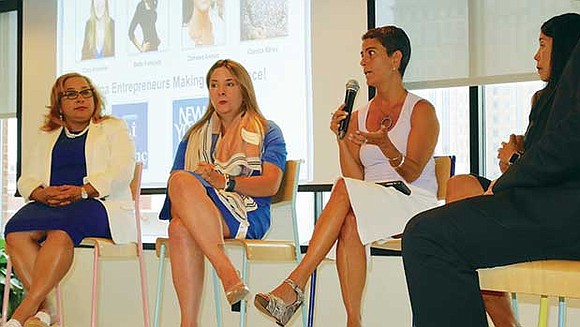 "Being an entrepreneur is like jumping off a plane without a parachute," says Zamawa Arenas, who recently launched Flowetik, a new branding and marketing consultancy.
To assemble that parachute with limited instructions and push through successfully, she explains to attendees at a recent forum for Latina entrepreneurs, you need "an indestructible will to accomplish."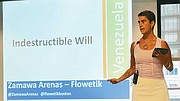 The Venezuelan-born serial entrepreneur previously spent 20 years with the full-service marketing firm Argus — 15 of those as co-owner — before hanging her own shingle in June.
With Flowetik, Arenas will offer strategic and consultative services to startups, small businesses and social enterprises poised for growth but lacking the resources to bring on a full-service agency. Her target clients are entrepreneurs with a social purpose.
One of Flowetik's first clients is the Teacher Collaborative, a nonprofit startup building a community of teachers for collaborative problem-solving. Another is Advoqt, a Latino-owned for-profit technology company that's working to develop a multicultural pipeline of tech talent.
Clients will learn to maximize "inbound marketing," employing online strategies like search engine optimization, relevant content creation, social media engagement and email marketing to build trust and attract the interest of potential customers, as opposed to traditional "outbound" tactics like TV, radio and banner ads.
"The way I see it, our job is to uncomplicate the complicated so clients can take big and bold steps forward," Arenas explains in a recent blog entry on her firm's website.
Serial entrepreneur
Arenas didn't grow up planning to be an entrepreneur, though she confesses that she was making bracelets and selling them in school at age 13. She came to the U.S. for graduate studies at Boston University and planned to return to Venezuela to continue her television management career there. But when she graduated in 1996, something new was coming into view — the World Wide Web. She decided to remain in the U.S. and learn more about it.
First she joined a startup design firm selling websites. That effort floundered. "People in 1996 were saying, 'No way. What is this?'" she explains.
She helped start an online film company that streamed art house films. In the era of slow dial-up modem connections, that effort, too, was ahead of its time. She notes the irony of being told by a technology reporter, "That's not going to work — people are never going to watch movies on a PC." History proved him wrong, but their early business model proved unsustainable.
Then in 1997 she met Lucas Guerra, who had just started Argus. The two partnered to grow Argus into today's multi-million dollar full-service marketing agency with a dozen employees and some 500 clients. With the tagline "Work that Matters," Arenas and her Argus colleagues directed their services toward organizations with mission and purpose.
Time for a change
Outside of work, serving as a mentor at the MassChallenge business accelerator, Arenas got to know entrepreneurs who understood the need for branding intuitively, but didn't have the time or resources to focus on it. The relationships she built there kindled a desire to serve a new set of clients in a new way.