Mayor convenes Boston summit on surge in violent crime
Participants call for long-term violence prevention
Yawu Miller | 7/12/2017, 10:10 a.m.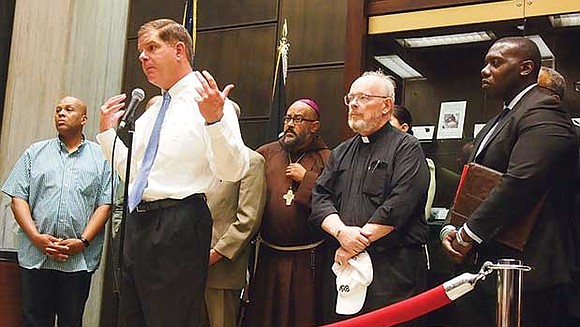 A brazen daytime stabbing in Dudley Square last Thursday left an 18-year-old man dead and a 15-year-old facing homicide charges in an incident that highlighted a spike in violent crimes. Later that day, a man was shot to death and a teenager wounded in a shooting on Blue Hill Avenue.
Friday, Mayor Martin Walsh held a summit at City Hall with police and anti-violence activists to discuss strategies for combating the rise in shootings in Boston. In a press conference with reporters afterward, Walsh and others said they are looking at long-term strategies to help so-called at-risk youth.
In the run-up to the July 4 holiday, Commissioner Evans deployed more officers to traditionally high-crime areas in Roxbury, Dorchester and Mattapan, anti-
cipating an uptick in violence that typically occurs at that time of year, he told reporters.
"We had a lot of extra officers, but obviously that didn't do the trick," Evans said. "At the end, we all pray that for the next six to seven weeks and the rest of the year, we don't lose another young kid to violence in our streets."
During the Dudley stabbing Thursday morning, two officers were on foot patrol in the area. During the Blue Hill Avenue shooting that afternoon, officers were 50 yards away from where the victims were shot.
"We had a lot of extra officers out there, but obviously, that didn't do the trick," he said.
The increased police presence comes in the midst of a 30 percent increase in nonfatal shootings over last year. Walsh said participants in the hour-and-a-half long summit meeting Thursday talked about how to bring resource to young people who are at risk of perpetrating or being victims of violent crime.
"We talked about focusing on those 12- to 14- year-olds," Walsh said. "Some of them are too old for summer camp and some are too young for work. We're focusing on kids who don't have employment and making sure we get jobs for them this summer. The conversation really was about how we can resolve some of the issues without policing."
Along with the mayor and police brass, representatives of the NAACP Boston Branch, the Massachusetts Association of Minority Law Enforcement Officers, community-based organizations and clergy attended the meeting.
"We spoke about the importance of collaboration," said Rufus Faulk, former director of the Boston Ten Point Coalition. "This isn't a one-weekend phenomenon. These are experiences that people in Roxbury, Dorchester and Mattapan have been dealing with for 35 years. It's important that we become innovative and leave the egos behind to sustainably address the issues that impact our community."
The meeting included groups and individuals who have worked closely with the police and Walsh administration along with some who have been sharply critical, including Bishop Felipe Teixeira and Larry Ellison, President of the Massachusetts Association of Minority Law Enforcement Officers.
"Today isn't about any differences we have," Ellison said. "Today is about working collectively on how we can quell the violence in the city. My organization looks forward to standing together with the city in helping all of our residents to make sure that not only do we have a safe summer, but all year it's safe for people to walk around the city of Boston."