Education is focal point in Boston mayoral race
Jackson, Walsh take different tacks on budgeting, closures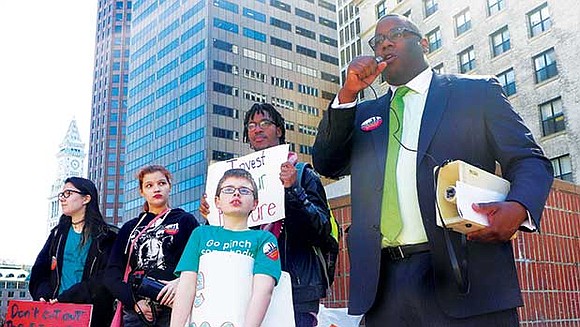 Education is emerging as a flash point in the 2017 mayoral race, with challenger Tito Jackson building on tensions over school funding, school closures and what some see as a lack of support for Boston's district schools.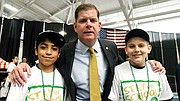 Over the last year, Jackson rose to prominence as a Boston spokesperson for the campaign against Ballot Question 2, an initiative that would have raised the cap on charter school expansion in Massachusetts. When students protested cuts to the BPS budget last year, staging a series of walk-outs and protests that drew thousands, Jackson was a vocal proponent of increasing funding. Such advocacy earned him a Massachusetts Teachers Association Friend of Education Award in May 2017.
Facing an uphill battle in his bid to unseat incumbent Mayor Martin Walsh, Jackson seems poised to turn up the heat. At a June 30 BPS Parents for Tito Jackson event, dozens of parents turned out in support of the District 7 City Councilor.
"What I really like about Tito Jackson is as chair of the [Boston City Council] Education Committee, he consistently advocated for resources for children of public schools," said Mary Lewis-Pierce, who attended the fundraiser. Lewis-Pierce's son is a rising sixth grader at the Hennigan, and her daughter a rising second grader at the Boston Teachers Union pilot school.
Lewis-Pierce said Jackson understands the social and emotional supports and services city children need, spotlights underfunding — such as high schools struggling to afford sufficient librarians, nurses and counselors — and has a strong track record of showing up for school committee votes and advocating at the State House.
In the other camp is Walsh supporter Chris Thompson, whose son attends grade 6 at the Joseph Lee K-8 and has an autism spectrum disorder. Thompson told the Banner he feels his son is well-served and that it now is easier to get help. He said Walsh stands out for a high level of involvement with youth and youth programs.
"I think Mayor Walsh would do an immaculate job," Thompson said. "When I first started off, I couldn't get my son into programs and it was difficult finding help."
Budget battle
The 2016 walk-outs were in protest of a funding shortfall that demonstrators said would have caused losses to classes, teachers, extracurricular activities or, in some cases, entire programs. Teachers spoke of the cumulative effect of what they said was years of underfunding. Walsh revised the budget, producing one that instead decreased the funding schools receive to serve children with autism spectrum disorders and emotional needs. As a result, class sizes increased by about one student. This year, the proposed budget provides lower levels of direct funding to about 49 schools due to their smaller enrollments. In June, Jackson was the only city councilor to vote against this budget, charging it fails to adequately support schools.
Jackson maintained for both budget years that higher funding was possible. He previously said that millions designated in 2016 to repair the North Avenue Bridge as part of an enticement to General Electric should have gone to schools instead. In a recent Banner phone interview, Jackson said he again believed the school budget could be increased without harming other departments. He said better education support would generate savings by lowering instances of dropping out — which correlate with lower earnings, lower civic engagement and greater likelihood of incarceration — and decreasing public safety issues.