Brew with a purpose
Entrepreneur harnesses coffee to help Ethiopian farmers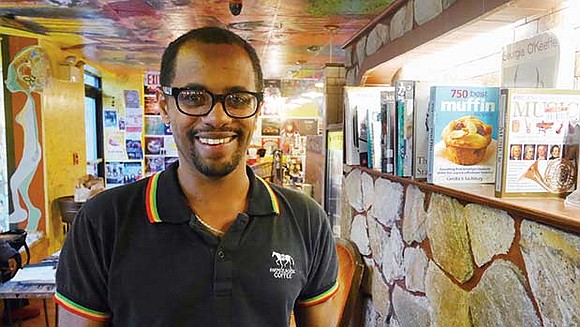 "There are things we take for granted here, but people in Ethiopia don't have shoes," he says.
Later, as he applied his education in teaching jobs, he continued to think about a larger mission.
"I taught in community college for a while and that was fun, but I wondered, 'How do I help people back home?' I wanted to have an impact on more than just a few people," he says. "So that's where the idea came to start a business or a venture that would create awareness and raise money, and build something."
A portion of sales from every cup of coffee Farmer's Horse sells goes toward aid to Ethiopian farmers in the form of building clean water wells. It takes $4,500 to $5,500 to dig a well that will serve 300 people, and his goal is to be able to provide two or three new wells a year.
Building a business
When he first thought about a coffee business, Sirmollo envisioned a mobile coffee truck, but he joined up with some partners, one of whom had secured the space at 374 Massachusetts Ave. They opened Farmer's Horse in 2014, managing the startup costs with savings and a do-it-yourself approach. Today, he operates the business with his cousin, Abinet Kassa.
The doors opened at Farmer's Horse (originally named "Farmer Horse") without much publicity or fanfare. The primary marketing tactic was a chalkboard sign on the sidewalk out front, along with the coffee, food and welcome they could offer inside.
"It was a grassroots approach," Sirmollo says. "I wanted to let people discover it, experience it and tell their friends."
Over time, growth has come slowly but steadily, he says, and now they can count on the 120 to 150 customers they need each day to stay afloat.
The menu has seen some adjustments — for instance, the chai and ginger tea are house-made now instead of from concentrate and they began offering fruit and vegetable smoothies in August. The decor has been transformed several times, from an early "modern and sleek" look to the final rustic feel with customer-written graffiti decorating nearly every inch of the rich red, green and yellow painted walls.
"When something's not working, I take it apart and try something else," Sirmollo says. "I've painted this place three or four times. Now I like it, and other people like it. The goal for me was to create that ambience where people feel welcome, they can relax, they can do their work."
Next steps
Sirmollo's goals include being able to import, roast and sell beans himself rather than buying from a supplier and bringing the beans to a roaster in Medford, as he does now. He's working on a new e-commerce website that will enable Farmer's Horse to sell its coffee beans online. The packaging and labels are designed and ready, and a Kickstarter campaign will launch soon to raise funds toward buying the roaster. From the coffee bean sales, Sirmollo plans to donate 50 cents per pound toward clean water projects.
Reflecting on his path so far, he has no regrets.
"The best thing is to be able to do something you're passionate about," he says. "I get up at 5:30 every morning — that never happened when I was working for other companies! And I'm here until 10 p.m. And it's fun."
He adds, "I've made mistakes, but each time I learned from it. Regret comes only when you don't go back and correct something. I've learned a lot of things in a short time. Now, everything I'll do going forward will be less risky."