YMCA CEO committed to youth development work
Saphia Suarez | 8/10/2017, 6 a.m.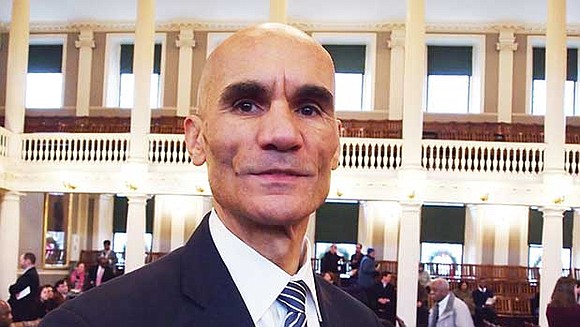 YMCA of Greater Boston CEO James Morton is both a proponent and the product of successful youth development work. The support he received from childhood mentors taught him how impactful youth development work can be, and he credits many of his achievements to them. He made his way to leading the YMCA after practicing law for 18 years and then becoming a high school teacher and coach.
Morton's goal is to make the YMCA of Greater Boston "America's education YMCA." He has turned his focus to supporting the children he serves not just physically, but academically. One of the ways he and his team do that is by tackling two major obstacles to closing the so-called "achievement gap" — hunger and summer learning loss. He spoke to the Banner recently about his path and goals.
How did you become interested in youth development work?
I am the beneficiary of people who saw in me more than I saw in myself. As a young kid growing up, I had three mentors. I had a teacher, Mrs. Mary Lee, who told me that I was not a slow learner or juvenile delinquent, and that if I worked hard she would get me out of a class that was set aside for slow learners and juvenile delinquents, as they were identified at that time. I worked hard and she got me out of that class. Then I began to work for an African American small business owner in my community who had a janitorial service. I worked for Mr. Fox from age 13 to 21, off and on. He showed me the value of hard work, and was very supportive of me in a time of great need. He encouraged me to go to college and be a good student in school, and I followed his advice. Thirdly, as I got to high school I knew that I wanted to go to college to prevent things that had happened to my family from happening to other families. In order to go to law school, which at the time I thought was the right profession through which to do that, I would have to go to college. I knew I wouldn't be able to afford it unless I got an athletic scholarship, so I started to focus on track and field. My coach said to me in my sophomore year, "Jimmy, if you work as hard in the classroom as I see you working on the track, I'll get you to college." And so my coach did coach me to college, but not as an athlete — I got to college on the basis of my grades. I graduated from the University of Wisconsin, then ended up at Northeastern Law, which got me to Boston originally.
What got you from law school to working as the CEO of the YMCA of Greater Boston?
I practiced law for 18 years, and then decided that I wasn't making the kind of difference that I wanted to make, and began to look for another profession. That led me to education. I became a high school history and law teacher and a track coach at the High School of Commerce in Springfield. It was at the High School of Commerce that I had my first opportunity to witness the power of young people transforming their lives with the support of caring adults around them. I was able to be one of those caring adults, and I had this transformative experience. I wanted to do more of that work, so I volunteered at the YMCA of Greater Springfield at a program called Youth & Government, which provided high school students with the opportunity to pretend that they were legislators, lawyers and journalists. I watched them gain confidence in their ability to communicate, both orally and in through their writing. I watched them develop networking skills, and I watched our Youth & Government delegation become one of the best in the commonwealth of Massachusetts, even though our children did not look like the other children in the program, and did not come from the same economic circumstances of most of the other children in the program. Seeing that convinced me that that was the work that needed to be done and the work that I wanted to do. Then the YMCA of Greater Springfield began a search for a new CEO. They asked me if I would consider applying for the position, which I did. I have now been in the YMCA movement for the last 10∏ years [working in Hartford, Connecticut before taking the reins in Boston in 2015].