Developers break ground on Bartlett Station project
Plan calls for 60 percent of units to be affordable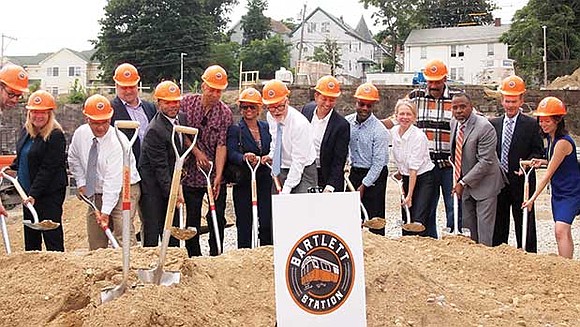 Bartlett Yard last week was the site of a formal groundbreaking twelve years in the making. Developers, city officials and residents gathered on August 2 at the former MBTA bus yard on Roxbury's Bartlett Street and Washington Street to celebrate starting construction on two buildings, which will be part of a larger planned mixed-use housing development.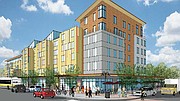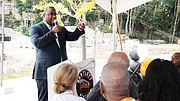 "This is a game-changer for the community of Roxbury," said Rev. Francisco Tolentino, president of the board of Nuestra Comunidad Development Corporation. The CDC partnered with Roxbury-based Windale Developers on the Bartlett project.
The site is intended ultimately to provide 194 rental units and 129 for-sale units, a 15,000-square-foot public plaza intended for artistic and cultural uses and more than 54,000 square feet of retail and commercial space, some of which will be startup space for food and technology businesses. David Price, executive director of Nuestra Comunidad, said the housing will be evenly divided among affordable, middle-income, and market rate pricing, with units capped at different income levels within each bracket. The entire 323 units are set for completion in 2023.
During the project's first phase, developers are constructing a building containing 60 rental units, of which 32 are affordable to those making up to 60 percent of Area Median Income, six for those making up to 70 percent AMI and 22 priced at market rate. There also will be a ground-floor grocery store. Negotiations are underway with prospective grocery store tenants, as Nuestra seeks a firm that can provide healthy food at accessible prices. A second building will provide 16 condos, of which one will be affordable for those making up to 80 percent AMI, one for those making up to 100 percent AMI and fourteen set at market rate. The condo building will provide 16 parking spaces.
More affordability could come. Kensington Investment Company has proposed providing affordable units at Bartlett to fulfill the Inclusionary Development Policy obligations triggered by its planned several-hundred unit condo building on 45-47 Townsend Street in Roxbury. KIC plans submitted to the Boston Planning and Development Agency propose providing 45 affordable home ownership units at Bartlett. Price told the Banner that should this plan receive BPDA and community approval, enacting it would not mean constructing any new units. Instead, KIC financing would be used to convert market-rate condos already included in the Bartlett designs into affordable homeownership opportunities.
Price said he anticipates the condo building to open in June 2018 and the rental and grocery building to open in October 2018.
Financing
The total Bartlett project costs $184 million. Kirk Jackson of the Massachusetts Department of Transportation said the state allowed the developers to defer payments on the land, but could not go so far as to provide the land for free because properties are an asset that MassDOT uses to generate revenue for its work.
The project has a long list of funders, with the first development phase receiving about $19 million in loans and equity investments from Local Initiatives Support Corporation (LISC) in partnership with Bank of America.