Boston fast food workers strike as part of national fight for higher wages
Nate Homan | 9/10/2014, 2:48 p.m.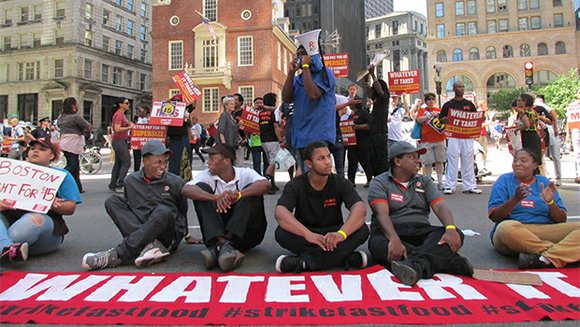 Nine people were arrested as hundreds of fast food workers in Boston went on strike as part of a nationwide effort to raise wages and secure benefits for some of the lowest paid workers in the U.S.
Across the country, fast food employees and labor activists are demanding $15 an hour, paid sick time, paid vacation, better health care and the right to unionize.
Striking workers in Boston expressed frustration with wages they say are below the cost of living.
"We start off at $8; we're supposed to get raises that aren't being given, no sick time, nothing," said Popeye's Chicken worker Eric Whatley, who commutes from New Bedford to Roslindale for work. "I'm fed up. We work hard and deserve more recognition for it. There are a lot of people who are afraid of striking. I'm not worried about it. I'll find something better. I'm tired of this."
There are at least 42,000 fast food workers in Boston, working for an average of $9.30 an hour according to information put out by MassCoalition. The minimum wage in Massachusetts is set to go up from $8 to $9 on Jan. 1, 2015, increase to $10 an hour on Jan. 1, 2016 and again increase to $11 an hour on Jan. 1, 2017.
But advocates, activists and local politicians say that those increases are not enough to live on and they aren't coming fast enough for workers struggling to get by.
McDonald's, Burger King, Dunkin Donuts, Popeye's Chicken and other restaurants' employees gathered in Downtown Crossing at the Irish Famine Memorial to hold a march through the streets.
The rally moved from the Irish Famine Memorial to the corners of Washington and Milk streets, where protesters sat in the middle of the street as a form of civil disobedience. A large banner dropped out of the window of a building across the street from the restaurant reading "Fight For $15," which drew cheers from the large crowd.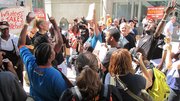 Protesters blocked street traffic and stormed into a McDonald's on Washington Street, chanting, "hold the burgers, hold the fries! Make our wages supersize!" Patrons left the restaurant while police prevented anyone else from going in. The protesters left peacefully when the manager asked them to leave.
Hundreds of protesters marched down to State and Congress streets in the Financial District, where the same group of nine protesters sat with a large banner reading "Whatever It Takes," blocking traffic in the middle of the intersection. These nine protesters were arrested and charged with disturbing the peace.
"People are willing to do whatever it takes to have our voices heard," said Theresa Jordan, a Burger King employee.
Prior to the fast food walk-outs, personal care assistants held their own rally on the steps of the State House petitioning for a living wage and union representation before joining the fast food employees in marching through the streets. Tourists stood across the street or sat in Duck Boats and took pictures as the crowd chanted, "Fight for $15."